---
Guy Bedos
---
According to Guy Bedos "comedy is also a form of resistance". He started out by resisting his own situation - a Frenchman from Algeria, he came into conflict with his family when the war of independence broke out, by virulently denouncing colonialism. In his earliest appearances on the Paris stage in the mid 1960s, this permanent rebel stood out from the common run of comedians for his free speech and the often politicised basis of his sketches. Although the duo he formed with his wife, Sophie Daumier, until 1975, tended to depict the shortcomings of the relations between the sexes, in his stormy TV appearances Bedos never failed to raise his voice very loudly, an unhesitatingly leftwing voice which remained staunchly independent of the authorities. Moreover, starting in the 1980s, during François Mitterrand's presidency, he transformed his shows into press Topicality of books in which, improvising instantly on the news, he cast an often enlightened and always pithy eye on political mores and social trends. The inspiration for Coluche and Pierre Desproges, a close friend with whom he shared a profound pessimism beneath his mask of public entertainer, Bedos has outlived both. He celebrates his seventieth birthday this year and has certainly not made his last cutting comment.
C. C.
---
Gallic or Rabelaisian humour
---
François Rabelais was unaware when he published his orgiastic masterpieces, Gargantua and Pantagruel, in the 16th century, just how many crimes of comedy would later be committed in his name. Sheltering under that wrongfully assumed label of "Rabelaisian" humour, is an entire palette of vulgarities supposedly embodying a French spirit directly inherited from our Gallic ancestors: sexual romps, saucy stories, everyday male chauvinism, good-natured racism and unifying populism, all coated in a layer of infantile scatology.
One of today's most popular French comedians, Jean-Marie Bigard, is heir to the rather unsophisticated line of quick-fire foul-mouthed comedians and smutty "poets" who populated the cabarets before the advent of TV. Nowadays the small screen is their second home, they present programmes (Lagaf', Patrick Sébastien) or are permanent guests on them, reeling off crude strings of jokes for the benefit of the "common man", which owe as much to colonial barrack room humour as to the school playground or the bar. Neither really wicked nor truly dangerous, it might be seen as sinister.
C. C.
---
The desperate humour of Desproges
---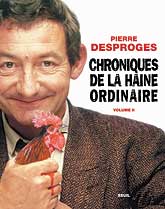 It is impossible to describe Pierre Desproges as just a comedian. The man who invented the saying "You can laugh at everything, but not with everyone", did indeed laugh at everything, never idiotically, and with unparalleled verve. This former sales manager of a factory that made polystyrene beams became, from the mid 1970s, a formidable author with a dark and acid pen, moving from radio to television with equal disregard for convention.
The heir to Alphonse Allais and Guy Bedos - who urged him to perform on stage - Desproges wrote and said the most appalling things about everyone in the most polished and elegant French. Nonetheless he remains one of the very few that can be read like a classic, and the titles of his numerous books reveal the sort of humour that drives them: Chronique de la haine ordinaire [Chronicle of everyday hatred], Vivons heureux en attendant la mort [Enjoy life while you wait for death] or Manuel de savoir-vivre à l'usage des rustres et des malpolis [Manual of manners for peasants and the uncouth] (pub. Le Seuil, "Points" series, Paris, 1981). A mock misanthrope in genuine despair, Pierre Desproges showed what he could do in his one-man shows from 1984 onwards. Dying prematurely from illness in 1988, he kept up his morbid self-mockery to the end.
C. C.
---
TV parody
---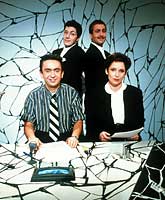 In the late 1980s, the Nuls delighted viewers of Canal+, using other television programmes as their main targets.
Commercial television came to France between 1984 and 1986, first with the pay-to-view channel Canal +, then with Silvio Berlusconi's imported Italian soaps (La Cinq) and lastly with the privatisation of the first public channel, TF1. A change that provided fertile ground for inspiration for an entire generation of new comics who worked on televisual parody. Les Nuls and Les Inconnus [the Nobodies and the Unknowns] were the undisputed masters of the genre during the 1980s. The first, on Canal +, kicking off with a crazy serial, a kind of loopy Star Trek, followed by spoof ads, hijacking the codes of televised news and ending by looping the loop with a proper weekly programme inspired by both the American Saturday Night Live and the British Monty Python Show.
Les Inconnus, from the café-theatre but originally made famous by television, first performed a parody of a TV game show (Télémagouille) on the stage, which gave them the idea of repeating the exercise ... on television. So during the 1990s a public channel offered them five evenings under the title La Télé des Inconnus [Unknowns' TV] in which they targeted with their fairly subtle humour - with irresistible impressions of individuals or archetypes - all TV genres from TV news to variety, from party political broadcasts to children's programmes.
C.C
---
The Coluche bomb
---
Michel Colucci, alias Coluche, was one of the most savage humourists in the history of French comedy. His stage career, which began in the late 1960s on the boards of a Parisian café-theatre, took off phenomenally in the late 1970s. His clown character in dungarees and a red nose belied language of a violence hitherto unheard-of except in the press. Indeed his targets were the same as those of the satirical papers like Charlie Hebdo or Hara-Kiri: the average Frenchman (or everday stupidity), politicians, the police, priests, etc.
Coluche managed to find a new and deeper angle of attack on these archetypes, like a cluster bomb that spares nothing and no-one. Man of the stage, film, TV and radio, Coluche achieved the status of popular philosopher, and as he aged began to slide towards a questionable populism. By threatening to stand at the 1981 presidential election, he once shook the Republic to its foundations. Dying tragically in a motorcycle accident in 1986, people now have a less controversial image of him, remembering him as the founder of an organisation to help the most deprived, Les Restos du cœur.
C. C.
---
Hoaxes
---
Hoax calls date back almost to the time when the telephone first became common in French homes. They are often thought to have been invented by comedian and humourist Francis Blanche who, with Jean Yanne, first established the genre in the 1960s. Targeting both individuals and governments, he invented totally ludicrous and crazy scenarios that only the victim could believe were real.
Some years later, the great Jean-Yves Lafesse picked up the torch, and reached levels of absurdity and madness rarely achieved on radio. Imitating all kinds of people, and showing proof of a quite incredible power of persuasion and ingenuity, Lafesse cast both listeners and victims into a surreal whirlwind. One day, for instance, he convinced a member of staff at the French Society for the Protection of Animals that his dog - world trampolining champion - had leapt so spectacularly high that he had never come down again.
C. C.
---
Playing with social conventions
---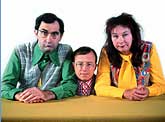 Les Deschiens.
Of the various comedians made popular in recent years through the magnifying effect of television, a few have skilfully played the always delicate game of mocking social conventions, squarely targeting certain social groups. Canal+, the TV channel always at the cutting edge of comedy, brought fame to the twosome Edouard Baer and Ariel Wizman, two fast-talking improvisers raised in the school of radio, in whose wake a horde of comedians followed, playing night-clubbers and social parasites, laughing at a previously under-represented group: the educated but idle urban trendy. Capable of reducing their audience to pure delirium, the performers sometimes turned the set of the early-evening programme "Nulle Part ailleurs" [Nowhere else] into a kind of crazy discotheque.
At the other end of the spectrum, Jérôme Deschamps and Macha Makeïeff's company working under the name Deschiens, sent up the limited social and intellectual skills of countryfolk without descending into gratuitous nastiness and with a degree of affection and Tati-style lyricism.
C. C.
---
Author's words
---
Michel Audiard is himself the epitome of the profession of comedy screenwriter. Certainly, the young film-makers of the New Wave made him one of their favourite targets, calling him, for example, the "Marivaux of the bar" (which he took as a compliment), but in the long run his style, and his witticisms especially, have entered the language ("When you put bastards into orbit you still go round in circles"), and even literary circles. For Audiard was above all head over heels in love with the French language and an admirer of classic authors such as Céline.
In the one hundred and twenty or so films for which he wrote the screenplay, in many of which his dialogue was the sole attraction, he managed to combine brilliantly his impeccable mastery of syntax with florid inventions of underworld and Parisian bar slang. His influence is still enormous twenty years after his death, especially through his cult-witticisms for Georges Lautner's films (Les Tontons flingueurs [Trigger-happy uncles], Ne nous fâchons pas [We don't lose our temper]), and his genius has never been equalled. ("I say and maintain that marriage is what distinguishes man from beast. You may think this is a joke. But it's not the same thing at all.").
C. C.
---
The impressionists
---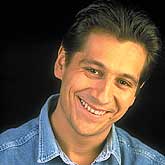 The fearsome mimic, Laurent Gerra, takes a stab as much at political leaders as showbiz stars.
Impersonation is a genre of which French comics are particularly fond, undoubtedly because the "freedom to blame", so dear to Beaumarchais, is all the greater when the performer assumes the appearance of his target. Politicians in the front line, but also singers, actors, public figures and sportsmen and women thus regularly serve as cannon fodder for these "terrorists" of comedy, able to hijack any voice, sometimes in a diabolical way.
Although Thierry Le Luron was for a long time the most popular comedy impressionist, particularly for his ferocity towards the political class of the 1970s, his chameleon talent has lost some of its shine over time. The same applies to Patrick Sébastien, the best at both physical and vocal impersonation. Today, Laurent Gerra has successfully created a bigger and more realistic range of voices, even though his scripts sometimes flirt with a rather vengeful populism. Through the latex puppets of "Les Guignols" on Canal +, impersonation has become a noble art, in some cases even becoming as famous as their originals: Jacques Chirac, Johnny Hallyday...
C. C.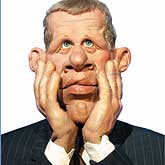 Patrick Poivre d'Arvor, star presenter of France's most popular television news programme, as a puppet on the satirical show, Les Guignols de l'Info.
---
Improvisation
---
In all his interviews Jamel Debbouze is emphatic: he would never have been able to earn the title of "funniest man in France" if he had not previously worked his way up through the improvisation leagues. Imported from Quebec (Canada), where in 1975 Robert Gravel organised the first match of its kind at the Montreal Experimental Theatre, these celebrated leagues have become true battles of the comics, a sort of friendly wrestling match of words and jokes. The teams are given a subject and do battle with flurries of puns, mimicry and absurd references. They knock out their opponent by striking a formidable verbal blow or pulling a face which defies any response.
Slightly unfashionable in France in the late 1980s, then making a strong comeback in the early 1990s, the improvisation leagues have shaped an entire generation of off-the-wall comics, dedicated to instant comedy, quick-fire jokes and spontaneity.
Pierre Siankowski, journalist on the cultural weekly Les Inrockuptibles
---
Double acts
---
France has a long tradition of comedy double acts, idiotic twosomes passing the ball in a disconcerting fashion, direct descendants of Flaubert's Bouvard et Pécuchet (1881). The genre was made popular in the 1960s by the masterly duo of Jean Poiret and Michel Serrault, who took turns playing the role of simpleton to end up in Ubu-esque situations in which their mutual lack of understanding and talking at cross-purposes raised hysterical laughter.
Other outstanding comedy double acts include Guy Bedos and Sophie Daumier, who played with the conventions of couples throughout the 1970s; Chevalier and Laspallès, a kind of town mouse and country mouse, gentle chroniclers of the 1980s; and, more recently, Eric and Ramzy, skilled exponents of an absurd and inventive ping-pong, adapted for the big screen in two film parodies: La Tour Montparnasse infernale [The Montparnasse Towering Inferno] (2001) and Double Zéro [Double Zero] (2004).
P. S.
---
Michaël Youn, humour designed to outrage
---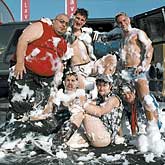 While you might expect to have to wait until the very end of the evening, it was very early in the morning that dangerous comedy made its appearance in mainland France. In 2001, France had hardly finished breakfast when it discovered on television, in "Morning Live" on M6, a true crank - Michaël Youn - who ran stark naked through the streets armed with a megaphone or threw himself against walls shouting "Not bad!".
A far cry from the usual canons of French humour, Youn invented a stream of comic ways of poking fun, achieving unprecedented audiences for an early-morning programme. Crowned with success and tired of playing the clown so early, this French Django Edwards left television in 2002 to apply his raw talent first to satirical song, with the Bratisla Boys, a successful spoof group singing any old thing but then taking it to the top of the hit parade, then to films with La Beuze (2003) and especially Les Onze Commandements (2004) [The Eleven Commandments], a kind of French Jackass (2002), opportunist but very funny.
P. S.
---
Jamel and French-style stand-up comedians
---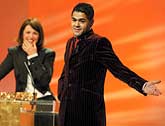 Making people laugh by talking about your life is the very essence of stand-up comedy, a form of comedy very popular in the United States, popularised notably by Eddy Murphy in the early 1980s. Long neglected in France, it has nonetheless found a master here in the person of Jamel Debbouze. Working his way up through the improvisation leagues, then through the pay-TV channel Canal+ and films, this young French Moroccan stepped on to the stage in the late 1990s to present his first show, Jamel en scène [Jamel on stage], with the sole ambition of making the country double up laughing at life. With an inimitable flow of patter, Jamel talks about his parents, his brothers, Trappes - the town on the outskirts of Paris where he was born - and very objectively talks about his journey from young "beur" [North African immigrant] to popular idol (he is now the highest-paid comedian in France). With his writing partner, Kader Aoun, he produces scripts as funny as they are political, as his last show, 100 % Debbouze, recently proved in 2004.
P. S.
---
Poetry and the absurd
---
Are comedians poets? The question might have been set for an A-level paper, then it might be something to include in a dissertation on Raymond Devos, the Belgian comic that everyone believes is French. Who better, indeed, to twist the French language every which way, to play with the rhythm of sentences and the meanings of words as he launches into barmy or surreal stories? There are few other candidates, if any, and to convince yourself of how far Devos is ahead of the game, all you need do is think about one of his most baroque aphorisms, taken from a sketch called I'm a fool: "He has given me proof of his foolishness with such intelligence and subtlety that I wonder if he doesn't take me for a fool!" Did someone say poet of the absurd?
P. S.
---
A look at everyday life
---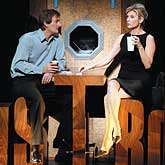 The duo Pierre Palmade and Michèle Laroque play on the hypocrisies and random events of life as a couple.
Started by the Guy Bedos-Sophie Daumier comedy duo in the mid 1970s, sending up everyday life came back into fashion in the mid 1980s, boosted by Sylvie Joly and Alex Métayer. But it was really Pierre Palmade, an acid and lucid commentator on those endless family reunions and exhausting days spent in the car going on holiday who delivered the funniest approach to it. Alone, or alongside Muriel Robin and Michèle Laroque for some fearsome male-female verbal ping-pong, in just under ten years Palmade created a typical profile of all those annoying mothers-in-law, all those garrulous brothers-in-law and innumerable couples seriously at the end of their tether. His cult sketches about a family game of Scrabble that degenerates into chaos or about military service are grating but always accurate pictures of the human comedy.
P. S.
---
Groland, deadpan humour
---
With a slight stretch of the imagination, you can see the beginnings of French style deadpan humour in The Lettres persanes [The Persian Letters] (1721) in which Montesquieu, through the fictional correspondance of two Persian lords travelling around France, wrote a genuine satire of the political and social mores of his day. Today's exponents of the genre are called "Les Grolandais". Based on an imaginary small country, the "présipauté" [an uneducated mispronounciation of the French for principality] of Groland, with a weekly television news programme on the pay-TV channel (Canal+), Grolandais journalists, led by Moustic and special correspondant Michael Kaël, a caricature of a spineless and complacent journalist, embodied by Benoît Delépine (once a "Guignols" scriptwriter), blow the lid off current affairs in France, and fire savage and absurd brickbats at narrow-minded French and global responses.
P. S.
---
Ludicrous situation comedy
---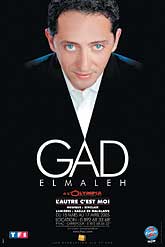 Since Jacques Tati's films (Mon oncle [My Uncle] (1958),
Les Vacances de M. Hulot
[Monsieur Hulot's Holiday] (1953)), we know that France loves to poke fun at ludicrous situations that put gangling and disorientated characters on stage, as unsuspecting heroes of circumstances verging on disaster.
Using body language rather than words, today's exponent of this very visual humour is Gad Elmaleh, a young Moroccan comedian and direct heir to Tati who, in his shows, films and television appearances, exhibits an incredible flexibility. Supple and irresistible, Elmaleh talks in a style a bit like a stand-up comedian about the cultural adjustments he has made since he left his native Casablanca. Creator of a kind of post-modern burlesque, using both action and words, he has become one of the most popular actors in France and recently triumphed in Chouchou (2003), a film adaptation of the life of one of the characters of his second stage show, La Vie moderne [Modern Life].
P. S.
---
Marc Jolivet, the "utopitre" [Utopian fool]
---
L'Utopitre, one of Marc Jolivet's latest shows, summed up to perfection the special position he occupies on the French comedy scene. Both gentle dreamer and committed activitist, this mock innocent constructs in every one of his sketches a sort of almost perfect world, which could come into being if only a grain of sand didn't systematically clog the machine to bring it all tumbling down. Master of the funny face in his greatest work, La Caisse de tuiles [The box of tiles], a small monument to pure comedy which transposes the myth of Sisyphus to the world of building (or the misadventures of a man in the clutches of a recalcitrant pulley), Jolivet has also become a caustic chronicler of the ecological and financial downward spirals of the globalised world and injustices of all kinds, always cloaking his harangues with a gentle madness. Stand up, all Utopitres!
Source: France-Diplomatie